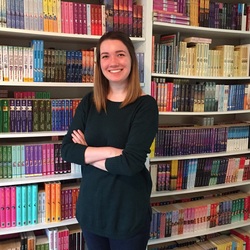 Join us at Creative Media Agency!
We offer a comprehensive, educational introduction to the world of publishing! We also offer the opportunity to participate in CMA's "Intern Academy," a biweekly hands-on participatory workshop taught by Paige Wheeler. "Intern Academy" is a twelve-week seminar with specific examples, stories, handouts, and practical information about the day-to-day world of publishing and agenting.
An internship at CMA is likely to include:
learning to evaluate query letters and manuscript submissions;
studying the process of editing manuscripts and nonfiction book proposals;
acquiring effective techniques in writing pitch letters;
understanding the etiquette for communicating with authors, editors, and publicists; and
analyzing the ins and outs of publishing contracts.
Currently, all CMA internships are unpaid, but given the strong educational bent of the internship, we encourage applicants to contact their affiliated colleges or universities to obtain course credit for the internship if and when possible.
Duration of internship: Semester (Fall, Spring, Summer)
​Requirements: Ideal interns will be interested in both the business and editorial side of publishing, be proficient with Microsoft Office Suite (especially Outlook), be proficient at researching and writing, and have a keen editorial eye. We require a minimum of 16 hours each week for both in-office and remote internships.
CMA is always looking for an intern who loves to read and evaluate commercial fiction, particularly romances, crime fiction (mysteries/suspense), women's fiction as well as some practical nonfiction. The intern should be knowledgeable about what's selling successfully in the market, have strong Microsoft office and Outlook skills (Word, Excel, vCards, etc.), and be a self-starter. Most interns work remotely but we'd also love to have interns in the office.
Our roster for the Spring 2018 semester is full. We are currently accepting applications for Summer 2018.
If you are ready to apply, please submit the following required material to paige@cmalit.com with the subject 'Internship':
1) A one-page cover letter (include publishing or office experience, availability and location during the semester, technical/computer-related skills, genre interest).
2) Your resume
3) A list of the last 3 books you've read (not for school), as well as your favorite 3 books
---
Where have our interns landed?

Intern: Writer's House, NYC
Literary Scout: Maria Campbell and Associates
Literary Agents (4!)
NYT Bestselling Authors (2!)
Editorial: HarperCollins; Thomas Dunne/Macmillan; Berkley, Penguin/Random House; Running Press, Wiley, Simon & Schuster
Promotions: Berkley; Penguin/Random House
Contracts: Penguin/Random House
Professor: CUNY
Marketing & Social Media: Proctor & Gamble; St. Martin's Press; HarperCollins; Tuck Austin Associates


---